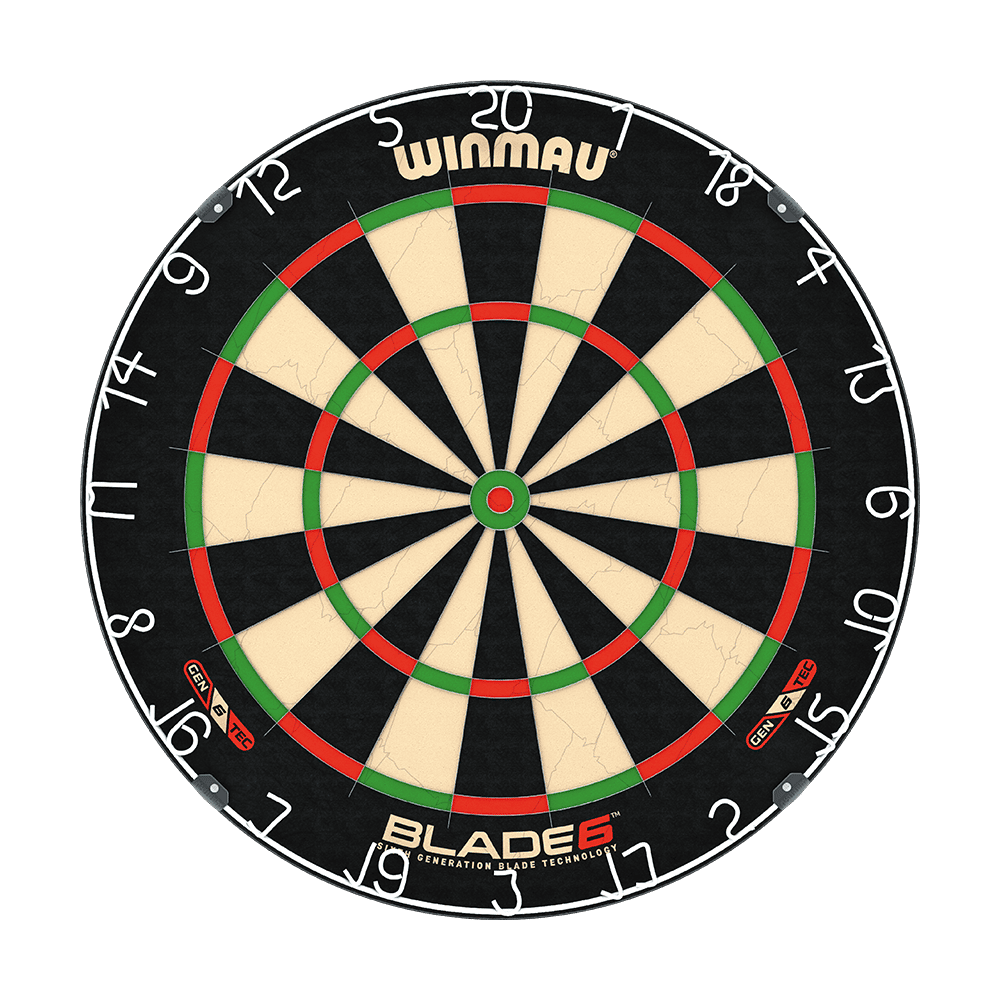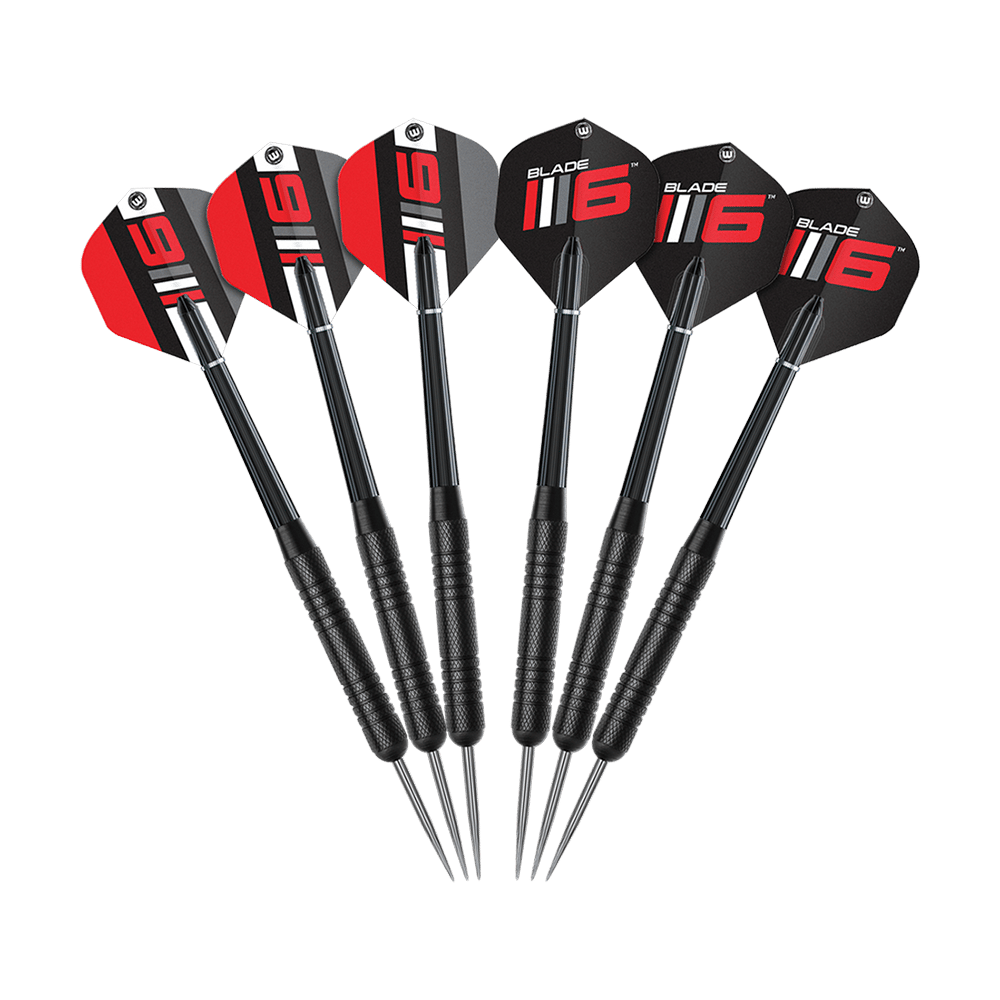 Product Information "Winmau Blade 6 Set mit 2 Sets Darts und Blade 6 Surround"
Practical starter set with the popular Blade 6 dartboard, two sets of black-coated brass darts (approx. 18.5 grams) in the Blade 6 design and a Winmau Blade 6 dartboard surround
The Winmau Blade 6 dartboard is the further development of its predecessor and consistently continues its proven qualities in the sixth generation. Winmau's "Density Control" ensures that sisal fibers are optimally and firmly pressed across the entire surface and extends the durability and reliability of the board. Thanks to a sharper angle on the underside of the spider, the sisal fibers in the double and triple fields and the area around the bullseye are not compressed as much during production, which ensures better playability of these fields.
The ultra-thin spider with a sharp 60° angle directs the darts into the scoring area and therefore ensures fewer bounces. The inner and outer bullseye wiring is up to 25% thinner than other boards. This ensures larger scoring areas and better hit points!
Thanks to the proven "Rota-Lock" system with its leveling wheels, the board can be perfectly adjusted and hung without wobbling, even on uneven walls. This also makes turning the board easier.
Diameter: approx. 45 cm
With anti-glare number ring, manual and checkout table.
Fastening material included! Due to possible different mounting surfaces, dowels are not part of the delivery.
The extra strong, one-piece surround ring for steel dart boards offers additional wall protection of approx. 12 cm around the board. It is designed so that it is simply pulled over the board to attach it and holds itself in place thanks to the narrow cut. Additional fastening materials are therefore not necessary.
Inner diameter: 44.0 cm
Outer diameter: 68.0 cm
Ring width: 12.0 cm
Ring thickness: 3.3 cm
Special features of steel dartboards
This steel dartboard uses high-quality sisal fibers. Since this is a natural product, slight irregularities, inclusions or color variations are possible. The places where the individual sisal strands are glued together are visible as characteristic "cracks" on the surface of the dartboard. This is not a mistake, but simply due to the fact that natural materials are used here. No two dartboards look exactly the same. The number ring shown corresponds to the traditional representation of a dartboard. The number 1 in the lower area of the number ring is not a product defect.
To increase the lifespan of the board, we recommend rotating it regularly every 3 - 4 weeks and adjusting the number ring. Steel dartboards are only suitable for indoor use!
Please note: This item is too large and/or too heavy for us to offer Europe-wide shipping. In addition to Germany, delivery is only possible to the following countries: Belgium, Denmark, France, Italy, Luxembourg, the Netherlands, Austria and Poland. Bulky goods shipments are sent with GLS.
Due to the dimensions, the item cannot be sent to packing stations or post offices!
---
Super Dartscheibe. Qualität usw. stimmt. Die Pfeile sind zwar nicht der Hit aber für den Anfang ok.
Ostermontag bestellt, Mittwoch kurz vor 12 Uhr die Scheibe erhalten. Pluspunkte gibt es außerdem für die Möglichkeit über Otto.de zu bestellen. Zum Produkt selbst muss ich glaub ich nicht viel sagen, Winmau spricht für sich selbst. Einfach ein super Starterset mit allem was man braucht um direkt los zu zocken. Ich bin sehr begeistert. Ab jetzt wird nur noch bei McDart gekauft.
Scheibe ist sehr gut, die Pfeile eher nicht.
Die Dartscheibe ist gut. Auf den Einstellrädern zur Fixierung könnten weiche Gummis montiert sein. Diese würden die Schallübertragung zur Wand besser dämpfen.
Kaputte Verpackung, schlechte Verarbeitung
Die Dartscheibe mit Surround ist genau das, es wir für uns gesucht haben.
Top Produkt kaufe schon öfter bei Mc Dart sehr gut
Ready for shipment, delivery in 1-3 days.
Delivery, Friday, 01.12.23 - Monday, 04.12.23
Order & pay within hours and minutes